The Lizard King, Dionysus, & all those other names.
James Douglas Morrison, born December 8, 1943, and died July 3, 1971, is one of the most electric men in the music business, to this day. Not only were his looks intriguing, but so were his words, and the way he took control over a crowd. His will to be weird and the awareness of his own soul are two of his best qualities. Jim Morrison was one of the very first people who ever spoke to me on a spiritual level. I can remember when I first started taking an interest to The Doors. Their music was melodic and hauntingly familiar. It put me in a trance and I never looked at anything the same way again.
"There are things known, and things unknown, and in between are the doors."
My obsession with The Doors escalated rather rapidly, and I began collecting every record, tape, CD, book, and movie I could find. I remember how enthralled I was by the story that was Jim. I can only imagine what it was like to know someone with such charisma, who believed so strongly in freedom of the self. Through readings and stories, I have decided that Jim must have been a person who always chose to follow paths that he truly wanted to follow. I love that in people, and I strive to do the same in my own life.
The Doors were there for me during times of great transition, physically, mentally, emotionally, and yes, of course, spiritually. Jim Morrison is a man of many names, but the best one is shaman. If it were not for him, and The Doors music, I would not be the teacher, writer, observer, and soul that writes to you today.
So on the 46th anniversary of Mr. Mojo Risin's death, I give to you 10 of his quotes that impacted my spiritual beliefs most: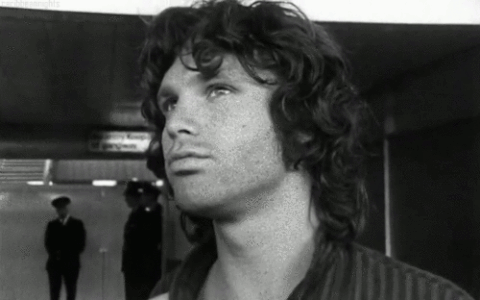 1. "We must try to find a new answer, instead of a way." (from the song, "Whiskey, Mystics and Men")
2. "Did you have a good world when you died? Enough to base a movie on?" (from An American Prayer)
3. "What have they done to the Earth? What have they done to our fair sister?" (from "When the Music's Over")
4. "Awake! Shake dreams from your hair, my pretty child, my sweet one. Choose the day and choose the sign of your day, the day's divinity." (from An American Prayer)
5. "Everyone has Their own magic / There is no death / so nothing matters" (from "Ode New York Maidens," in Wilderness, Vol. 1)
6. "That's what real love amounts to – letting a person be what he really is."
7. "Love is the rose of mysterious union." (from "Peace Frog")
8. "First there were women and children obeying the moon. Then daylight brought wisdom and fever and sickness too soon." (from "Whiskey, Mystics and Men")
9. "And I can tell you the names of the kingdom. I can tell you the things that you know." (from "Celebration of the Lizard")
10. "I love the friends I have gathered together on this thin raft. We have constructed pyramids in honor of our escaping. This is the land where the pharaoh died." (from "The Wasp: Texas Radio and the Big Beat")
---
Writing this was actually really difficult for me. As I started listening to, and researching all the songs once more, I realized just how many of his words, and the Doors' songs, impacted who I am today. I feel that without Jim Morrison, and the Doors, I would not have the same view of the world that I have now. I would not have the understanding of mysticism and shamanism that I am so proud to have.
Thank you Jim, and thank you to the rest of the Doors, as well.
I have wanted to write this post for a very long time. And I don't think I will ever be one-hundred percent happy with it. There are too many feelings and emotions to try to convey just how deeply this music and these men have influenced me. They hit me at a true soul level. And that is why I must at least attempt to honor their Spirits.
Thanks for the wild ride, my wild love. Blessed be, Jim Morrison.
---
If you are interested in reading more words from the
Word-man,
or wish to reach a new level of enlightenment, I highly suggest taking a look at all three of these books. If you thought The Doors music was far out, then you're in for a treat…
---
If you liked this post, subscribe to receive my newsletter, and find me on Facebook, Instagram, Twitter, YouTube, and Pinterest. And remember, sharing is caring! 🙂
I do not take ownership over any of The Doors, Jim Morrison's, or Elektra's work.
GIF from: GIPHY
©Morgan Reed and Modern Mystic Musings, 2017. All rights reserved.